Why Our Suet is Better…Simply Better Ingredients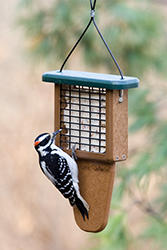 Suet is available at a lot of stores, including "big box" and discount locations. However, not all suet is created equal. Finding the best for your birds can be tricky if you just grab the least expensive option on the shelf. It is important to check the ingredients list and guaranteed analysis information on the label. Essentially, better ingredients = better suet.
The point of offering suet is to add fat and protein to the diet of suet-eaters. The least expensive cakes have a high proportion of grain, which is inexpensive and adds little protein. Our Wild Birds Unlimited suet blends are formulated with food grade beef tallow for quality and freshness, as well as increased amounts of fat and protein to provide birds with a nutritious, high-energy food. They also include ingredients that are proven to be more attractive to birds --peanuts, tree nuts, fruit and mealworms. We never add undesirable fillers, pellets or unnecessary vitamins or minerals.