Attract More Birds, Butterflies and Other Critters to Your Yard With Our Birdscaping Service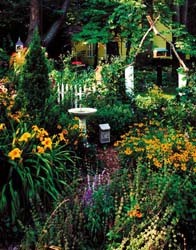 A typical suburban yard attracts between 15 and 25 different species of birds throughout the year. With a little bit of forethought, and not alot of effort, that number can be doubled or even tripled. Our Birdscaping Service will assist you in the planning and orienting of your yard to create conditions that attract more birds, entice a wider variety of birds, or both.
Learn how to encourage birds to your habitat by having: (1) different types of feeders and food to attract different birds--including not only seed but also other food sources such as suet, peanuts, fruit, and nectar; (2) available water sources such as birdbaths, recirculating ponds or fountains, drippers and misters; (3) plantings to provide food, cover, and nesting opportunities; and (4) man-made nest boxes to attract cavity-dwelling birds.
Your personal on-site Birdscaping consultation will be with our staff expert, Don Torino. Don is not only one of our Wild Birds Unlimited Certified Backyard Birdfeeding Specialists, but he is also an expert gardener, and his own yard has been certified by the National Wildlife Federation as an official Backyard Wildlife Habitat. Don will assess your yard, discuss your objectives with you, and determine your needs. You will be provided with a detailed written report that includes specific recommendations for enhancing your backyard habitat.
The fee for this service is $75 plus tax. Along with the written report you will receive a $25 Wild Birds Unlimited gift certificate to help you get started on implementing your Birdscaping Plan.
Call for more information, or to schedule your personal Birdscaping consultation in our area. This service is only available in the Bergen County area.
And remember, a Birdscaping Consultation would make a great gift for any bird-lover on your gift-list. What better way to share the joys of nature! Ask for details.