Nature Happenings
• July 9: Full Moon, July 23: New Moon
• July: NABA National Butterfly count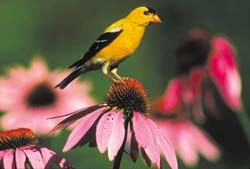 • Blueberries ripen in early July.
• Raccoons, skunks and opossums are digging up and eating turtle eggs.
• Yellow Warblers begin to migrate south and are gone by August.
• First brood of immature hummingbirds begin to show up at nectar feeders early in the month.
• Except for goldfinches and late bluebirds, bird breeding and nesting season ends this month.
• Thistle plants begin to seed; goldfinches gather thistledown for nesting material.
• Fall migration starts this month with shorebirds.
• Blackbirds begin to flock together.
• Katydids and Cicadas are in full chorus by mid-month.
• Listen for the feeding screeches of young Barred and Great Horned Owls.
• Fawns begin traveling with adult females.
• Look for hummingbirds feeding on Trumpet Creeper, Red Cardinal Flower and Jewelweed flowers.